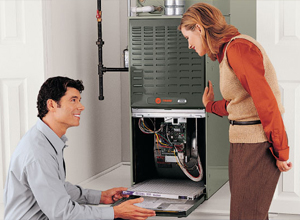 Your Full-Service Air Conditioning Expert
Buzz Duzz Heating For a variety of services including service and repairs for air-conditioning and heating systems. We can repair or replace your heat pumps, and we offer complete renovations of your ductwork. We work with builders and supply the ducts to heat or cool every room in your home. From oil heaters to gas and electric heaters, we can do it all, and we offer sales of many fine brands, too. Our goal is to make sure you are happy, so we clean up when the work is done. We go out of our way to ensure customer satisfaction. Just call us at 215-533-7000.
There are a variety of problems that can cause your air conditioner not to function properly: it could be that your thermostat or sensor is not working correctly, or the motor or compressor may have failed. A dirty filter or evaporator could also cause problems, or you might be low on refrigerant.
It's important to have an experienced and trustworthy technician examine your system; improper care -- like adding the wrong refrigerant, failing to fix a leak or making other errors – can create even more problems. Turn to the professionalism and technical expertise of Buzz Duzz to make sure the job is done right. The HVAC experts at Buzz Duzz will inspect your system, diagnose what went wrong and thoroughly explain what your options are.
Please feel free to browse through our website to find out about the rest we have to offer. To speak with a company representative, please call 215-533-7000
Here at Buzz Duzz, we pride ourselves on fast emergency service!